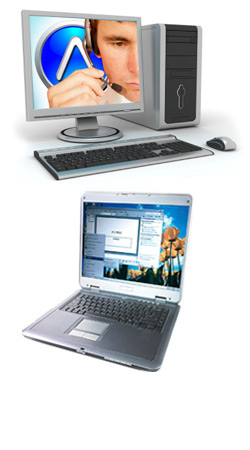 Advantron provides quality computer service at an affordable rate.
We respond to your service call either the same day or following business day. If it is an emergency we can prioritize your call.
With Advantron after your first service call is placed you are assigned a technician. You can contact that technician directly through our advanced telecommunication system which routes your call directly to your technician's desk or cell phone to get you in contact quickly.
Quality Service with affordable rates for all size businesses from 1 computer to 500.
Business:
• $35.00 Visit Fee
• $129.00 Per Hour
Residential:
• $35.00 Visit Fee
• $115.00 Per Hour
Telephone/Remote Support:
• $12.00 Per Call + $2.00 Per Min

Please Note: These are our on-site rates. For store pricing, please visit us or
call 845-727-7777

Try our NEW Remote Tech Support!
It's Fast, Secure and Simple.
Now you don't even have to wait for a technician to visit. Just call us and tell us your problem.
We then send you to our "secure website", you click a link and then are prompted to grant us access. When you click YES, we will be able to control your mouse and keyboard and solve your problem remotely.
When we are finished, the tiny remote control application is removed from your machine.
If our remote support technician is unable to fix your problem remotely we will dispatch one of our technicians to your home or office to solve the problem.
---
Providing on-site Computer Services to the Tri-State Area of New York, New Jersey and Connecticut.
Computer store conveniently accessible for Nyack, Central Nyack, West Nyack, Orangeburg, Valley Cottage,
Nanuet, Blauvelt, Congers, Pearl River, New City and other neighborhoods within Clarkstown and Orangetown
© 2011, Advantron Corp, All Rights Reserved | 1-800-FIX-THIS, Nyack, New York 10960